Support
For customers on our new cluster of email servers you should use the following settings;


Incoming mail type: POP3 or IMAP (depending on your agreement with us)
Incoming server: vmail.ukip.com
Incoming port: 110 for POP3, 143 for IMAP
Username: your full email address
Password: as supplied by us

You may need to specify authentication method as Password - usually only on Mac Mail


Outgoing mail type: SMTP
Outgoing server: vmail.ukip.com
Outgoing port: 25 or 587 (if you experience connection problems using port 25 then try 587)

Please ensure outgoing mail is set to use authentication, this may be under more options or advanced
Username: your full email address
Password: as supplied by us


If you need to access your email while away from your usual PC, you can use the online webmail system.
You can access it using the following URL and use your full email address and password to log in;
http://webmail.ukip.com/
FTP is a commonly used way to upload websites onto web servers
This can be done from within Windows, Mac, or a Linux operating system,
or also by using an FTP client program.
---
FTP using an FTP client
Using an FTP client application is the preferred way of working with files over FTP
FTP clients can transfer large number of files, and give progress and time information
The FTP client program we recommend is FileZilla
The latest version is available to download for free from:
http://filezilla-project.org/download.php?type=client
(Windows, Mac and Linux)
We recommend that you read the official guide to using FileZilla which can be found here:
http://wiki.filezilla-project.org/FileZilla_Client_Tutorial_(en)
---
FTP using Windows
To open an FTP folder from within Windows you will need the FTP server and login details,
You should be able to enter your details into the location bar as follows:
ftp://username:password@ftp.server.com/
You would replace username with your FTP username,
replace password with your FTP password,
and replace ftp.server.com with the supplied FTP server address.
Here is an example of how it will look: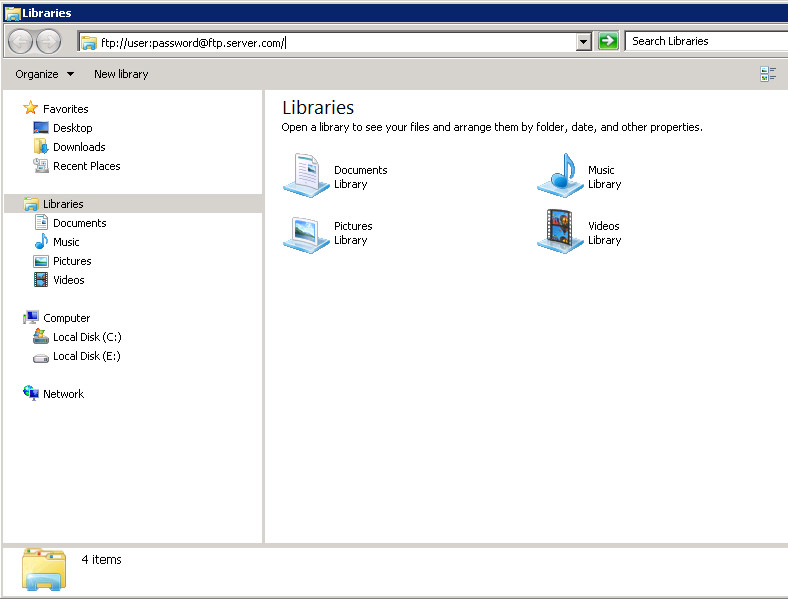 If the details are correct this should take you straight into the FTP folder for your website,
To change the files displayed on the actual website you will normally need to go inside a folder called either "web" or "httpdocs" depending upon the server.
Complaints Process
I am not happy with the support I have received. What do I do now?
If you are not happy with any aspect of the services provided by UKIP please contact us using our support@ukip.com email address, or the above support form.
We will do our best to resolve the issue. All email will be responded to within 5 working days.
If you still are unhappy with the support you have received and require to escalate the issue, please contact abuse@ukip.co.uk
All escalated complaint emails sent to abuse@ukip.co.uk will be dealt with and responded to within 5 working days.